Panthers Hang on to Advance to Finals
Feb 25, 2011
By: Robert Sumpter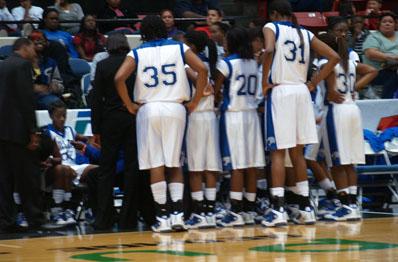 The 5A state semifinals game between Gainesville Buchholz and Ft. Lauderdale Dillard featured two teams with different championship histories. Buchholz had just made the final four after losing in the regional finals for three consecutive years by a total of eight points while Dillard had just won their fifth state title under legendary head coach Marcia Pender. In a game between two of the most physical teams in the state, Dillard hung on to defeat Buchholz 60-54 and to advance to the 5A state championship game on Saturday.

Dillard use their size advantage to own the boards and control the inside. Led by senior T'Keyah Williams, who finished with a game high 20 points and 15 rebounds, the Panthers outrebounded Buchholz 50-37 including 23 offensive rebounds.

"Dillard is a very good team. I think we left everything out on the court. I am very proud of my team, I know we competed and did our best and I know we will be back next year." Buchholz coach Rebecca Williams said.

After a going into the half with a two point lead, Dillard came out of halftime and went on a 12 to 2 run to start the third quarter and take control of the game. The Panthers use their run to take a 12 point lead with 2:47 seconds left in the third quarter.

"As a team we talked about the coming out and making a run to begin the third quarter." I really felt we were able to take control of the game at that point." Dillard coach Marcia Pinder said.

Down by seven going into the fourth quarter, Buchholz made another run behind guard Jessica Thomas, who scored nine of her 17 points in the final quarter, the Bobcats were able to cut the lead to 58 to 54 with 57 seconds left.

Buchholz had a chance to cut the lead to one point when Thomas appeared to be fouled on a three point attempt but the officials didn't call the foul and Buchholz was forced to foul.

"We have a very young team. We only lose one senior who was starting and return the bulk of our team. I am not sure if I am suppose to say this but we will be back next year and we will be playing for the championship." Williams said.

To Top

Email

Printer Friendly

Save to My FloridaProspects.com