Lady Vikings Wins Second State Championship
Feb 27, 2010
By: Robert Sumpter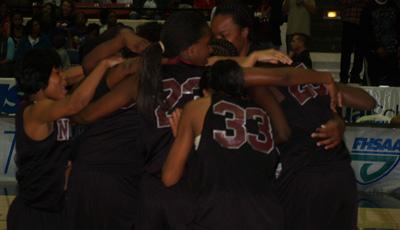 It wasn't pretty or the type of game Miami Norland Lady Vikings is accustomed to playing but at the end of the day the Lady Vikings got the same result, a victory and another state championship defeating Pensacola 43-38 in overtime for the 4A state championship.

I feel good for our entire school. Norland has become a special place where everyone supports us. In our last game I felt like we were at Cameron Indoor Stadium. We had the boys team in face paint jumping up for us. It was a very special feeling for us and our team." Norland coach Carla Harris-Curry said.

Pensacola displayed the heart and hustle fans were use to throughout the game. Pensacola senior Jasmine Richardson.

"I felt that our players gave me 100% out on the floor. The game went down to the wire with us having a chance to win at the end. That's all a coach could ask for." Pensacola coach Alison Davis said.

The Tigers led Norland in the first half behind the strong play of senior Jasmine Richardson. In that half, she had a double-double and finished the game with 18 points and 13 rebounds.

The game was close throughout with no team gaining more than a four point advantage throughout regulation. With the game tied at 31, Pensacola had a chance to win the game but Kyla Muhammad missed a shot from the baseline with no time left.

The difference in the game was rebounding. In the first half Pensacola held a 24-14 rebounding edge over Norland which led to them taking a two point halftime lead 19-17. The second half was a different story. Norland outrebounded the Tigers 22-8 including clutch rebounding in the overtime period that led to second shots that led to the victory.

In the first half we didn't do the little things. We felt we could just out jump them for rebounds and it hurt us. After halftime we got back to doing the simple things like boxing out and we were able to get to the ball better.

During the overtime period, Norland seniors took control of the game. Cleandra Roberts scored eight of her team high 18 points in the overtime period while Stephanie Edwards scored four points to outscore Pensacola 12-7.

"I don't felt that I took over the game, because we are one team but I was more aggressive in the overtime period when I felt my team needed me." Norland senior Cleandra Robers said.

To Top

Email

Printer Friendly

Save to My FloridaProspects.com