Central Florida Guard Is More Than Numbers
Aug 20, 2010
By: Robert Sumpter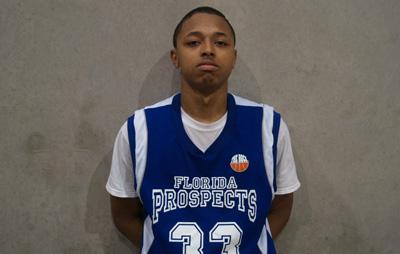 Heart, Courage, Determination. Those are three words that you want from an athlete. Those three words signifies that a player will give everything he has for his coach and team. Those three words describes Wekiva High guard/forward Cornell Gunter.

Gunter has been a player who has always played against the odds. At 6'1 Gunter doesn't have the ideal size for an off guard but he has always played bigger than his size.

Gunter will be a four year Varsity player for Wekiva this upcoming year and a three year starter. During his junior year, Gunter averaged six points, seven rebounds and four assists while helping to lead Wekiva to the playoffs for the first time in school history, but numbers alone doesn't come near to describing the type of player Gunter is.

"Cornell's biggest asset is his heart. He plays with a chip on his shoulder. Its as if he has listened to everyone who has told him he couldn't do something everyday and he goes out to prove that he can." Kelvin Robinson Team Florida Prospects AAU coach said.

During his time at Wekiva, Gunter has literally played every position on the court. From point guard to at times center, he has approach each position as if it was his own.

"I think what gives me an advantage over most people is my work ethic. I work hard everyday to prove to everyone that I am able to excel no matter what position I play. I have played every position on the court and feel comfortable playing every one of them. Although I feel I am a natural guard, I give my best effort no matter where I am on the court in order to help my team win." Gunter said.

What makes Gunter a valuable commodity on the court is his unselfish play and his leadership ability. He sacrifices a lot of his offensive game just to be a defensive specialist.

"I really take pride in playing defense. I always felt that defense wins championship and I feel that no one should score on me no matter what position I am playing." Gunter said.

At this time, Gunter has a few schools looking at him including local Rollins and Florida A & M.

"I am looking for a school that is going to have my major of pharmacy and a school with a very good environment, a place where I can grow as a player and a person." Gunter said.
"Wherever school Gunter decides to attent, that school will be receiving one of the hardest working players I have ever been around and the school will be better for it." Robinson said.

To Top

Email

Printer Friendly

Save to My FloridaProspects.com