Jacksonville Guard Ready For the Season
Aug 25, 2010
By: Robert Sumpter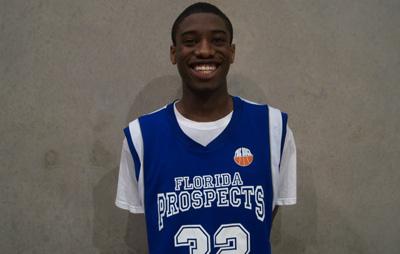 Last year, Jacksonville First Coast had its best ever year in boys basketball. The team reached new heights in wins and almost made it to the final four. With several players returning, the Buccaneers, are poised to make another run. Their success this year will be keyed by the play of rising senior Ambrose Mosley.

At 6'0, Mosley is one of the more exciting guards in the North Florida area. He is usually the quickest player on the court and is one of the more athletic guards in the area. This past year, Mosley was a key member of the Buccaneers team that went to the Regional Finals for the first time in school history. Mosley averaged nine points, seven rebounds and four assists leading First Coast to a 24-4 record.

"We had a great year last year, but I was disappointed in how we finished losing to Winter Park. I transferred in from Jacksonville ACD last year and we won the state title the year ago so I just knew we were going to win state again. It really motivates me to work harder for my team so we can reach the next level." Mosley said.

Basketball has been a part of Mosley's life since he was born. Not only did he have older brothers play the sport challenging him on a daily basis, but his dad was a player and currently is the head coach at Edwards Waters College.

"Having my dad as a coach, I get to learn more about the sport. He doesn't force me to play and doesn't try to coach me, but he helps me with the little things. After a game he may give me a pointer or go over things he saw on the court. It's definitely a plus having him to talk to." Mosley said.

Over the summer, Mosley went out of his comfort zone of Jacksonville and played with Florida Prospects based out of Central Florida.

"My main goal over the summer was to get better in every aspect of the game. I felt that playing for Florida Prospects helped me achieve that while playing against some of the better players in the nation." Mosley said.

"Mosley may have improved more than anyone on our team this summer. He went from a player who was a contributor, to a player that I couldn't get off the court. He improved his shot selection and started to realize how fast and quick he is on the court. By the end of the summer, he was blowing by defenders on a daily basis creating for him and teammates." Team Florida Prospects AAU coach Kelvin Robinson said.

Mosley definitely saw his stock rise over the summer. Currently, he is getting recruited by several schools throughout the nation including: San Diego, George Mason, Bethune Cookman, Northeastern, Ryder, JU and UNF.

"I'm looking for a school where they have a good graduation ratio and a place where I can grow and get better as a player and a person." Mosley said.

After having a successful summer, Mosley plans on continuing to improve and have a different perspective for his upcoming year.

"After playing this summer, and seeing the success I was able to have, I feel like I am at a different level as a player now. My confidence is up and I am ready to just dominate on the court." Mosley said.

To Top

Email

Printer Friendly

Save to My FloridaProspects.com